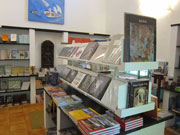 History and today's organisation:
Freeland is a bookshop where you can discover a wide and eclectic collection of books. Our vision is to find, in a beautiful and calm setting, books on spirituality, philosophy, yoga, healing, organic farming and the environment, beautiful coffee table books on art, architecture and design, children's books and many great novels.
Vision and Missions:
A source of all kinds of books, CDS, DVDs, cards, and such items for Auroville. Customers can order in as requested.
Leaders & Team:
A team of 3 is working in the Bookstore, which is situated outside Auroville, in the village of Edayanchavadi.
Opportunities at Freeland Bookstore