Collaboration with Svaram Musical Instruments
Daily Tasks
The daily tasks will be according with the area the volunteer want to explore inside Svaram. The different areas of collaboration are: Research, Product Development, Public Relations and Marketing, Music Education.
Skills gained
Opportunity to participate in a sustainable community based enterprise, emphasizing on craft and artistic skill development.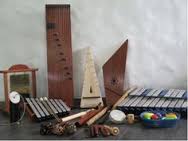 Opportunity Description
Context of the need:
Musical instruments are approached as an extension of the human instrumentation of sensory capacities and creativity and as tool for a higher perception and expression of our nature. 
Aurelio's Svaram Musical Instruments was launched in 2003: conceived initially as a way to realize experiments with new instruments and tunings, this activity has evolved into an Auroville commercial unit which sells a wide range of easy-to-play instruments from various cultures.
Svaram has enabled collaborations with notable researchers and musicians, such as the prototypes of Klaus Fessmann' s singing stones, and Alexander Zhigarev' s expertise with brass bells.
For the future, Aurelio dreams of expanding Svaram into a campus: a combination of experiment and heritage, with studio / laboratory for sound research, an academy for musical studies, modern workshops and a vocational training center in musical instrument making.
Position and role of the volunteer:
Svaram has different areas in which a volunteer could engage, depending on the liking, skills or education.
We need people to help us in:
- Research
- Product (musical instruments) development and design
- Public relations and marketing
- Music education
Conditions and practical details:
Tea and lunch are provided on working days.
In some cases we could give some support with the lodging.
Duration:
Minimum duration is 2 months that can be further extended. (Non-Indians must be aware of the visa conditions- see our visa pages).
Morning hours 8.30 to 12.30, Monday to Friday.
Afternoon hours 14.00 to 17.00, Monday to Friday.
Prerequisites
Creative person. Independent working. Craft skills. Communication skills and strategic thinking.
Number of volunteers needed: 1