Developing a Creative Health-related Social Enterprise
Daily Tasks
Assistance for the establishment of the social enterprise: marketing strategy, development and actions plans. Consolidate the initial work. Defining outreach media and modalities. Assist in the preparation of workshops, conferences and training sessions. Communication and Social Media. Update our data base and follow up of our contacts.
Skills gained
Learn Laughter yoga and joy of Therapeutic Clowning. Direct experience of a social enterprise project. Discover ground realities of working with the bio-region in rural South India.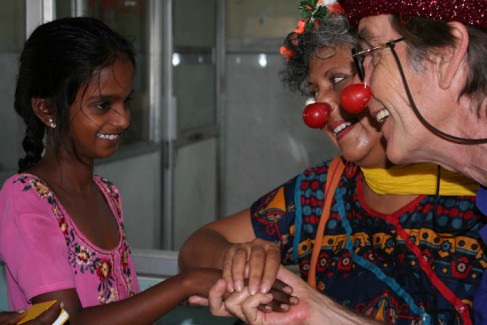 Opportunity Description
Context of the need:
 MeDi Clown Academy collaborates with professionals in Healthcare, Education and Business. Through research and training we enhance well being, combat stress, eradicate domestic violence and stop suicide. We integrate the joy of Therapeutic Clowning, Laughter and Humour, with scientific research and the ancient art of indigenous clowning, as a holistic approach for the preventative and curative well being of individuals and communities in rural and urban India. We offer professional training and workshops.
We are now in an expanding moment and it will be helpful for us some assistance in our development.
Position and role of the volunteer:
The main task of the volunteer is to help us to grow and consolidate as an enterprise but s/he will be welcome to participate in our activities and workshops and laugh and enjoy with us.
Conditions and practical details:
Tea and lunch will be provided.
Auroville contribution will be paid.
Duration:
Minimum duration is 6 months. It is possible to extend the period if there is the need. (Non-Indians must be aware of the visa conditions-see our visa pages.)
Morning hours 9.30 - 12.30 (flexible timing)
Afternoon hours 14 to 16.30 (flexible timing)
Prerequisites
Office and computer literate, familiar with back-office corporate work. Knowledge in internet marketing and internet. Good English written and oral. Communication skills. Visual/graphic presentation capacities. Sense of humour and adaptation to a diverse environment. Action oriented.
Number of volunteers needed: 1