Daily Tasks
The task is to organize the books of our library according to their level (about 5000 books for students up to 12 years old, 500 books for students up to 7 years old ). It is also needed to record the books on a computerized database to provide a searching platform.) The volunteer could also train our students in using the library.
Skills gained
Experience and exposure to Indian culture and village life around Auroville.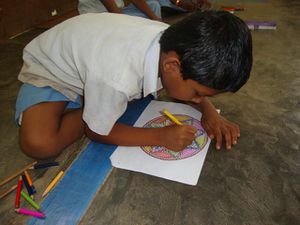 Opportunity Description
Condition and practical details:
Lunch and tea will be provided on working days.
Duration:
Minimum duration is 6 months, ideally the volunteer will stay all school period, from June to end of April. (Non- Indians must be aware of the visa conditions-see our visa pages).
Morning hours 8.30 to 12.30, Monday to Friday.
Afternoon hours 13.30 to 15.00, Monday to Friday.
Prerequisites
Good will and enthusiasm. Patient and autonomous.Willing to be with children. Open to use a computer in the process of teaching. Interested in other cultures.
Number of volunteers needed: 1