Daily Tasks
Helping in the preparation of organic inputs, for pest and disease control, and in nutrient management. Care and maintenance of the existing plants and green spaces. Continous beautification and harmonizing of the Matrimandir area in a 100 % chemical free environment.
Skills gained
Gardening and working in a team. Experience to work in silence, in a meditative state to respect and be connected with the spiritual atmosphere of this special place. Learning the principles of careful mix of Vrikshayurveda, Biodynamic farming, Consortia Probiotics technology and Neem technology for the care of plants .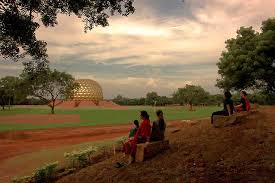 Opportunity Description
Context of the need:
It must be a thing of great beauty, of such beauty that when people come they will say "Ah this is it"… It must be an expression of that consciousness which we are trying to bring down. 
The Mother
The Matrimandir Gardens as a whole cannot be compared or identified with the realisation of any past or present garden for they have to respond to the indications given by the Mother to manifest a specific beauty and various states of consciousness. They are the first step of the initiatory path of the Matrimandir, and have to create an atmosphere that favours the visitors' inward receptivity. This research remains to be done. It will be more in the nature of a quest, to allow the manifestation of a vision, rather than a mental endeavour that seeks to achieve a symbiosis of the traditional gardening forms, be they Japanese or Western.
Roger Anger, January 2004 [2]
Conditions and practical details:
Tea will be served twice a day. 
Discounts in solar Kitchen lunch scheme (Monday to Saturday).
Duration:
Minimum duration is 3 months that can be further extended. (Non-Indians must be aware of the visa conditions- see our visa pages).
Morning hours 8:30 am to 11:30 am. In summer time 7.00 am to 10.00 am.
Afternoon hours
Prerequisites
Ecological background. Interest in Auroville philosophy,. Capacity to work in a team. Able to work under high temperature and sun exposure. English spoken (the coordinator also speaks Italian, Portuguese and Spanish)
Number of volunteers needed: 2