Product Designer with Natural Materials
Daily Tasks
Work on the design of various natural and eco-friendly interior design products both to improve existing designs and propose new designs.
Skills gained
The inspiring opportunity to be working with natural materials.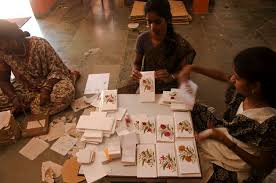 Opportunity Description
Context of the need:
In Shradhanjali we gather the wealth of nature as expressed through flowers, foliage and seeds and convert this into beautiful products in a conscious and caring way. Please click on link Shradhanjali for more information.

We  provide a pleasant, stimulating, enriching, educative and empowering working environment for the young village women it employs.

We generate wealth for the growth of Auroville by doing business in an ethical conscious manner. Profits generated by Shradhanjali are channeled back into the community for its maintenance and development.
Conditions and practical details:
Meals and tea will be offered.
Duration:
Minimum duration is 2 months that can be further extended (Non- Indians must b e aware of the visa conditions- see our visa pages).
Morning hours 8:30 to 12:30, Monday to Friday.
Afternoon hours 14.00 to 17.00, Monday to Friday.
Prerequisites
Design background. Creativity.
Number of volunteers needed: 1