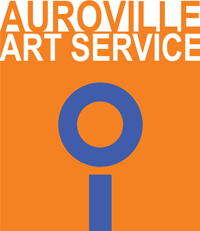 AV Art Service (AVArtS) is a platform that offers support for local artists through showcasing their work and amplifying their voices, registration of their projects, and fundraising. It also creates an arena for art events and gatherings and serves as a channel for funds that can enrich the arts.
History
AVArtS emerged from introspection into how arts and culture could develop in Auroville. In 2012, a group of Aurovilians initiated this service for artists of the bioregion, recognizing the key importance of creating a new consciousness, a new life, and a new culture based on beauty and the artistic spirit.
Vision & Missions:
Artistic work in Auroville is not motivated or dominated by market forces, but wants to be an expression of a consciousness, something that will progressively nourish and energize the human soul and the city. With a population of only 3000, Auroville has already produced painters and sculptors, musicians and composers, dancers and choreographers, writers and film makers, actors and directors, and even hosts a biennial film festival.
Recognizing the importance of art and cultural activities to the growth of Auroville, our main activities include:
• supporting events that foster unity between people through artistic means
• creating platforms for artistic research, creation and administration
• actively accessing grants/funds that support the development of art in Auroville
• providing an online presence to Auroville-based artists and projects, art galleries, and art events taking place in Auroville
We are driven by a passion for the arts and a deep sense of service and responsibility to the artists, to the receivers of the arts, and to the Dream and values of Auroville itself. Transparency and openness to change remain core to our ethos and the services we offer to the community. 
Team:
AVArtS has three executives: Pushkar, Ramesh and Renu. The management team consists of Krishna, Prakash, Riju and Sandra. Our films are made by Alessandra and our photos are taken by Frederic and others. At the moment we have some long-term volunteers who form an important part of our team. Ratheesrajan is the assistant filmmaker, Arielle takes care of our social media management, and Shivam helps with the Instagram. We look forward to welcoming more volunteers to join our work.
You can learn more about AV Art Service activities on:
Website: artservice.auroville.org
Instagram: https://www.instagram.com/aurovillearts/
Facebook: https://www.facebook.com/AVArtService/
Location: 4th Floor, Old Water Tower, (above the AV Today offices), Surrender, Auroville 605101
Phone: 2623187
Email: [email protected]auroville.org.in
Location:Taichi Hall, Sharnga, Auroville 605101
Opportunities at Auroville Art Service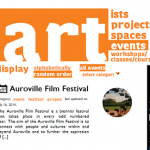 Daily tasks:
Update the list of Auroville artists. Contact them and asking them to join the website. Follow up.
Daily tasks:
Researching, writing, talking to people, listening to radio interviews, collecting information from different sources.
Daily tasks:
Organize the data received from all the cultural venues in Auroville for the events of last year.