Assistance in Food distribution and Cooking
Daily Tasks
Displaying products on shelves, labelling, checking stocks, interaction with people, helping in kitchen. We are open to experiment and implement any new service idea which improves/ adds value.
Skills gained
It offers opportunity to interact with people in Auroville who come regularly to PTDC for their basic necessities. We are open to suggestions/ideas in distribution, budgeting, demand, innovative food preparations. Opportunity to learn /study the unique system which does not involve exchange of money.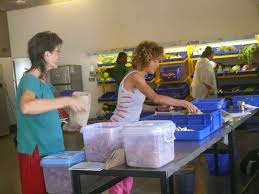 Opportunity Description
Context of the need
PTDC is a cooperative effort  where the community shares its resources.  These resources are under one umbrella and are used for the benefit of all who choose to be partners.
Please click on the link Pour Tous distribution Centre for more information.
We need volunteers who understand the project and help in day to day functioning as well as contribute with strategic new ideas.
Position & Role
 We welcome any volunteer who is willing to help us with stock management, assistance & interaction with persons using the service or help in kitchen.
Goals & Expected Outcomes
To understand the project with its functions.  To offer your services sincerely for a mutually agreed area of work. Feasible fresh ideas and  value additions are welcome.
Conditions
Lunch and tea will be provided during work days.
Morning hours 9-12am
Afternoon hours 2-5pm
Prerequisites
We are looking for an organised person with a spirit of Service and with good communication skills. We welcome any volunteer who is willing to help with stock management, interaction and assistance to people who use this service, help in our kitchen that prepare take away meals. We also welcome volunteers who are interested in studying about this unique concept developed as experiment and are open for service ideas which improve /add value in keeping with the vision.
Number of volunteers needed: 2