Development of African Pavilion
Daily Tasks
Our members work on the campus of African Pavilion every morning tending to the permaculture garden, doing forest work, and maintaining the interior areas and exterior grounds. Members have kitchen duties and often go shopping for groceries, tools and supplies. Once the integral work is completed, members also paint signs and decorate our spaces. We hold weekly meetings, keep minutes and write reports when called upon. Organisation of events and workshops is key as we have weekly activities and also rent our spaces for general use. Members should participate in events to ensure they run smoothly and sometimes we give public performances to exhibit African culture. All African Pavilion members should be welcoming to guests and able to supervise visitors' accommodations when needed. We love our dogs and they love us so members should feel comfortable engaging with our animals.
Skills gained
The above activities, when done with awareness and free will, foster a feeling of family life thus healing our differences and traumas. While exercising acceptance and harmony with visitors, as well as with nature, volunteers will learn important skills such as management and coordination, planning and visioning. The spirit of Africa will imbibe every step through generosity, abundance and the unending joy of simply being.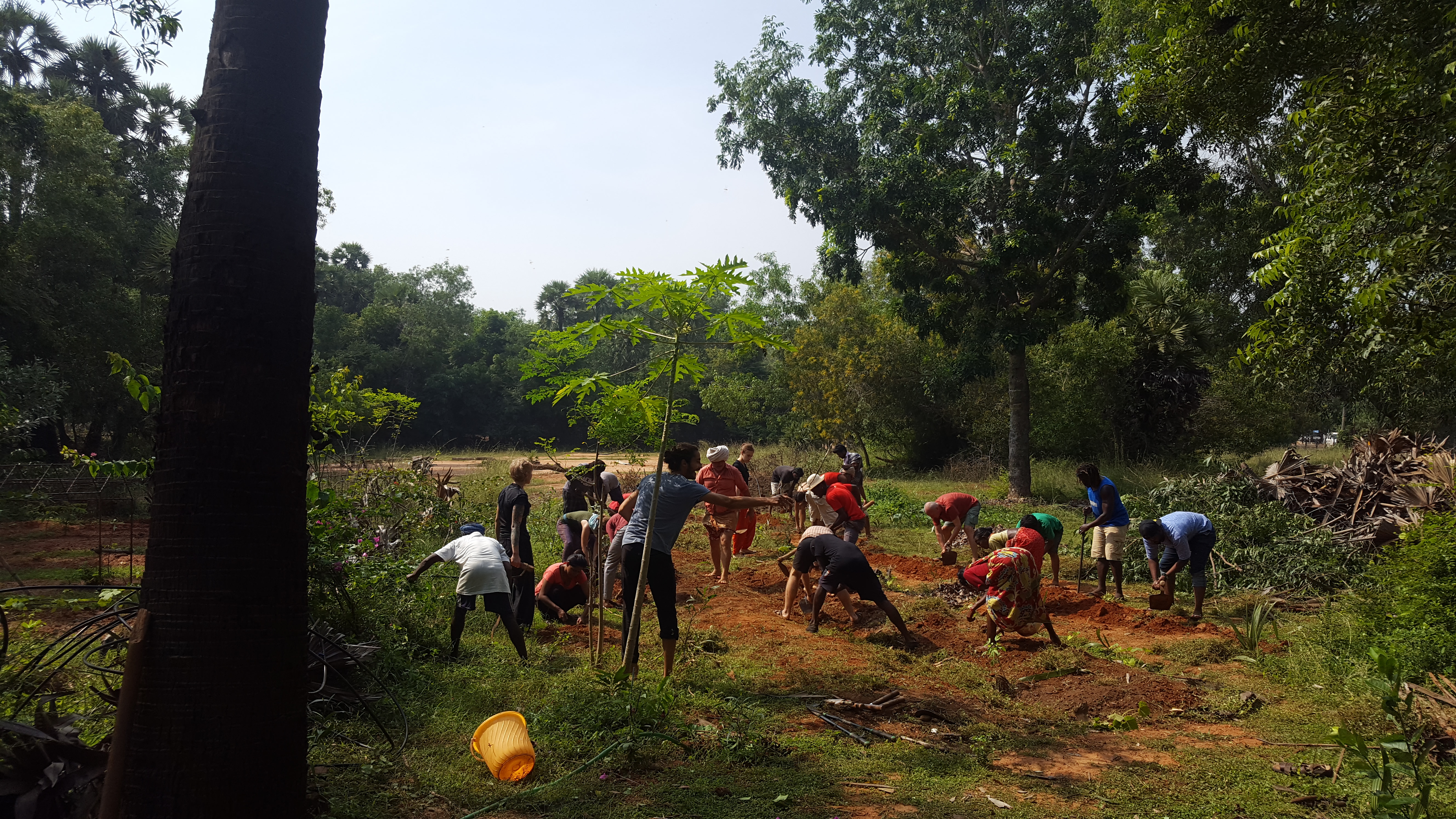 Opportunity Description
Context of the need
African Pavilion is a part of the Auroville International Zone and is a space dedicated to exploring African traditions and culture. We needs volunteers who will assist in its development.
For more information please click on the link African Pavilion.
 Position and role of  the Volunteer
Junior Architect
We are looking for a Junior Architect to contribute to and support architectural projects at African Pavilion. She or he would help prepare designs, complete construction documents, write up building plans, and assist in the presentation of materials. She or he would coordinate with African Pavilion's Lead Architect with the goal of gaining on-the-ground experience. This work is very collaborative in nature. 
Collaborate on Design Projects

The Junior Architect would help plan and design buildings along with a team of Architects. She or he would brainstorm project ideas, complete design drawings in AutoCAD and assist in reviewing project proposals, attend meetings related to development and town planning, remaining a part of the process from conception through development.
Complete Paperwork

The Junior Architect would complete and file much of the paperwork that is involved in the design process. She or he would create proposals and complete construction paperwork for African Pavilion buildings. In order to ensure that our projects follow legal specifications of Indian Law and Auroville procedures, she or he would ensure all required documents and paperwork are submitted before the construction process is started.
Communicate with Involved Parties

It is important that the Junior Architect maintains communication with all parties involved in the project. She or he would communicate with contractors to monitor the progress of projects, and are sometimes responsible for communicating with the African Pavilion Project Coordinators as well, noting requests, answering questions and sending project updates.
Coordinates Project Details

In order to assist the Lead Architect, the Junior Architect would coordinate the details of an architectural project. This includes building specifications, dimensions, assisting with initial project research and outlining project schedules and tasks.
Skills Needed
An African Pavilion Junior Architect is a deeply logical thinker with an eye for detail and design, and an ability to solve problems efficiently. She or he is a highly organized multi-tasker who embraces flexibility and can prioritize many different duties and projects at once. She or he has no problem meeting deadlines and is capable of communicating effectively with her or his clients and working as part of a team.
Preferred Skills
Drawing skill and good sense of space
Site experience (demarcating land, space measurement, surveying)
Demonstrating proficiency in AutoCAD and Revit
Some experience producing construction documents
Showing internship experience with an architecture firm
Being able to use Microsoft Office
Proficiency in Adobe Creative Suite
Media Manager
African Pavilion is looking for a Media Manager with confident communication and people skills. She or he would possess superb project management and organizational skills with the ability to work comfortably in a fast-paced environment.
To ensure success, an African Pavilion Media Manager should demonstrate a wide degree of creativity and latitude with a keen interest in shaping African Pavilion's image and values through appropriate communication to the outside world. Top candidates will display natural leadership qualities with fantastic time management and planning skills.
Responsibilities
Develop content for press releases, presentations, social media, websites and other distribution channels
Serve as the organization's media liaison to  coordinate with photographers, videographers, journalists, and interviewers
Coordinate with artists (muralists, painters, sculptors)
Host art workshops and exhibitions
Coordinate with incoming African artists
Monitor online and offline campaigns, and report on results
Build and manage the African Pavilion's social media profile and presence
Build long-term relationships with media influencers
Gather and archival footage for database



Gardener / Forester 
Permaculture gardening, vegetables and aromatic plants
Compost preparation and maintenance
Collaboration with botanical gardens, farms and forests nearby
Natural pest control, fence maintenance
Tree pruning, planting and caring for small trees, watering and mulching
Guest Manager
Guest reception and registration
Provisions for Habari Guest House supplies
Guiding visitors to activities on site 
 Conditions and practical details
Volunteers will have an equipped kitchen at their disposal as well as free access to events at African Pavilion such as drum session, various workshops and classes on art, craft, dance, wellness, sustainable green practices, etc
Operating hours are from Monday to Saturday from 9am to 5pm. Volunteers are expected to give a minimum of five (5) hours of their time daily.
Morning hours 6am - 12pm
Afternoon hours 2pm-5pm
Prerequisites
Volunteers are expected to uphold the values of African Pavilion during and after work hours, onsite and offsite. Volunteers who engage in misuse of the grounds and misconduct during their volunteer period risk having their status revoked.