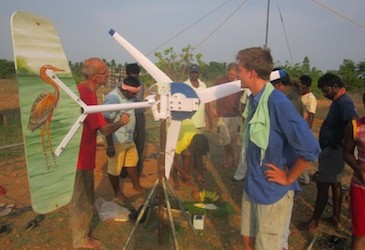 History and today's organisation.
Minvayu is a project that started in 2010.
The project wants to help Indian villages in their need for power, through training, supplying and supporting rural mechanics to build, install and maintain low cost wind turbines.
The wind turbines are specially designed to operate efficiently in the lower wind speed ranges that are common in most regions in India and they are made of local materials.
All technologies used are open-source.
Vision and Missions.
Minvayu's aim is to increase local self reliance by training local mechanics and entrepreneurs that wish to become certified Village Partners, who will learn how to design, install and maintain wind home systems and run their own business serving the villagers in their area. 
 Additional training for productive applications of the energy generated by the wind turbines are also being develop including 3-D printing, plastic recycling, weaving and CNC wood rooter for carving.
Leaders & Team.
Jorge, an Aurovillian, together with some volunteers and students are developing the project.
Location:Windarra Farm, Auroville
Opportunities at Minvayu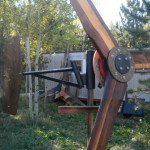 Daily tasks:
Develop a water pump controller to interconnect small wind turbine with submersible pumps.
Daily tasks:
Both design work, fabrication and testing, training and teaching, documenting technical achievements