Auroville Village Action Group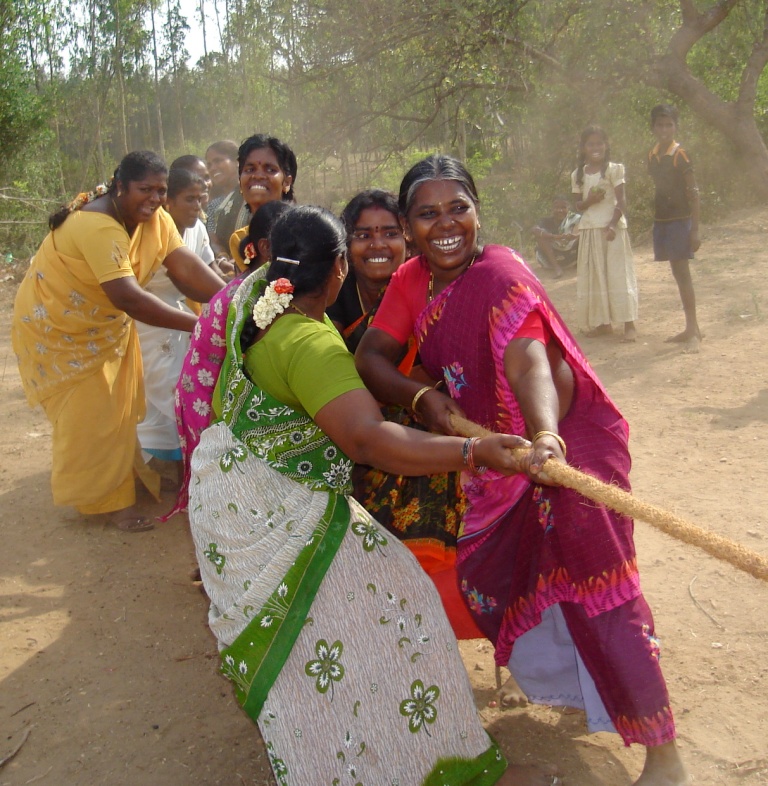 History & Today's organization:
Founded in 1983, AVAG is the umbrella and platform for village development from Auroville.
AVAG has developed into a solid and reputable organization for positive social change that fosters the integral development of civil society, democracy building and social advocacy.
Working with all sections of the communities in and around the Auroville bioregion, it fosters participatory village transformation in approximately 80 villages through: Community Development, Economic Development, Capacity Building and Psycho social Support .
Vision & Missions:
Micro financing, capacity building: training and seminars on various issues, psychological and physical health initiatives, global warming and environmental degradation awareness, caste and gender exchange programs. Social enterprise development.
AVAG's activities are all designed to empower the rural communities to organize themselves for their own personal and communal empowerment.
Leaders & Team: 
The team is formed by 19 permanent staff and 1 to 5 volunteers. It patronizes several dynamic projects.
Location:Irumbai road, Irumbai village & post, opp to EB substation - 605111 Tamil Nadu India
Opportunities at Auroville Village Action Group
Daily tasks:
Create visual material, for different types of public. Supporting the documenting and outreach activities. Managing the relationship with Auroville social media, and the general media Organize and manage the visual material in the website and youtube account.
Daily tasks:
Attending the meetings and training sessions and preparing the minutes, linkage with different Auroville units, updating the web-page, documentation, preparing newsletter for AVAG, scheduling the meetings when needed etc.
Daily tasks:
First familiarizing with AVAG; creating outreach and informational materials and then identifying, writing and submitting project proposals. Innovating previously untried approaches to networking. Assist with funding strategy and budget planning.
Daily tasks:
Analyzing surveys and writing reports for distribution and/or publication; Preparing questionnaires for future surveys Working with field staff to translate existing Tamil monitoring tools into English; Writing/standardizing format for Activity Reports; Disseminating completed materials; Networking with potential partners; Assisting with office tasks when needed.
Daily tasks:
Prepare a catalog of SEDAB and promotional materials for the products. Create marketing tools specifically for spirulina and tailored items. Create a website and tools for internet sales.
Daily tasks:
Help in designing new products for our social enterprise, training and fine tuning the women in making the new and existing products, managing the production, preparing the catologue and promotional materials and if possible help in marketing.